*This post may contain affiliate links, which means I receive a commission if you choose to purchase through links I provide (at no extra cost to you). Please see my disclosure policy. If you need help finding a mental health professional, call 1-800-662-HELP (4357) or visit BetterHelp to chat with a licensed therapist for an affordable price.
Gifts to Help People Who Are Depressed
Are you looking for ideas for gifts for people with depression?
Your loved ones and friends with depression probably need your time and attention more than anything.
But beyond that, there are certain things you can give them that will help to lift them up.
These include items that will help to promote healthy habits, help encourage rational thinking, as well as just make them feel comforted and safe.
Below are some ideas to get you started.
Tech & Gadgets for Depression
If you're thinking of technology or gadgets as gifts, there are lots of options.
1. Health & Fitness Tracker
Fitbit Inspire Health & Fitness Tracker
Any sort of tracker (fitness, brain-sensing) is also a good idea since it's not something a person might buy for themselves. But, it will be gratefully received (and probably put to good use).
2. Light Therapy Lamp
Verilux HappyLight 10,000 LuxLight Therapy Lamp
Light therapy has been shown to be an effective treatment for seasonal depression, so that's an easy gift idea for anyone who seems to suffer most in the dark winter months.
Books for Depression
Books are an easy choice for anyone living with depression. You don't even have to choose one that's obviously about depression.
Furiously Happy is a good example of a mainstream book dealing with this difficult topic in a light-hearted way.
If you'd rather not pick a particular book to give as a gift, you could always give a gift subscription to Audible. Audible is an audiobook service that includes one book a month.
3. Mind Over Mood: Change How You Feel by Changing the Way You Think
Mind Over Mood: Change How You Feel by Changing the Way You Think
4. Furiously Happy by Jenny Lawson
Furiously Happy: A Funny Book About Horrible Things
How to Double Your Social Confidence in 5 Minutes"
Check out this free training offered by the experts at Social Self!
How to use "Conversational Threading" to avoid awkward silence
The proven way to get past boring small talk
Instantly beat self-consciousness with the "OFC-method"
Busting the myth that you have to get a "more interesting life" to be more interesting"
5. The Happiness Project by Gretchen Rubin
The Happiness Project by Gretchen Rubin
Journaling for Depression
Journaling has many mental health benefits, especially if it's done on a regular basis.
Make it easier for a person with depression to make journaling a habit by providing them with a workbook that guides the process.
6. How to Be Happy (Or at Least Less Sad): A Creative Workbook
How to Be Happy (Or at Least Less Sad): A Creative Workbook
7. Mood Tracking Journal
Today I Choose Joy: Mood Tracker
8. Betterhelp Online Therapy
Do you want to be really helpful to someone who is really struggling (and whom you know well)? An option might be to sign them up for online therapy.
Plans with Betterhelp are as little as $65 per week and they don't even have to leave home to chat with their therapist.
Readers of this blog also receive a 20% discount off the first month of Betterhelp therapy when using the link below.
9. Reusable Water Bottle
Motivational Water Bottle with Time Marker
Here's a sneaky way to buy a gift for a person with depression. Make it a gift that's all about their health!
Everyone wants to be healthier, so these types of gifts are easier to give.
An easy example is a nice water bottle that encourages them to stay hydrated and drink more water.
Self Care Gifts for Depression
It's so easy to let self-care slide when you are depressed. Make it easy for your friend or family member to take care of themselves with a gift that encourages self-care practices like using essential oil, drinking tea, or taking supplements.
Weighted Blanket
Weighted Ideas Weighted Blanket
Essential Oil
Ylang Ylang Plant Therapy Essential Oil
Essential Oil Diffuser
InnoGear Essential Oil Diffuser
Mood-Boosting Tea
Buddha Teas Organic Lemon Balm Tea
Related: 21+ Self Care Gift Ideas for Mental Health
Mindfulness Gifts for Depression
Mindfulness helps to keep you in the present moment without worrying about the past or the future.
Some simple and thoughtful mindfulness gifts include a miniature zen garden or a lemon tree.
Scented Candle
Chesapeake Bay Scented Candle, Balance + Harmony (Water Lily Pear)
Mini Meditation Zen Garden
Nature's Mark, Mini Meditation Zen Garden
Mugs for Depression
Do you want to give a gift that makes someone smile each time they use it? In that case, you might want to consider a cute mug with an uplifting quote.
Jewelry
Inspirational Bracelet
You Are Braver Than You Believe Bracelet
Jewelry can be inspirational if you live with depression. Here are some ideas for jewelry gifts for people with depression.
Related: 23+ Anxiety Jewelry Gift Options
Temporary Tattoo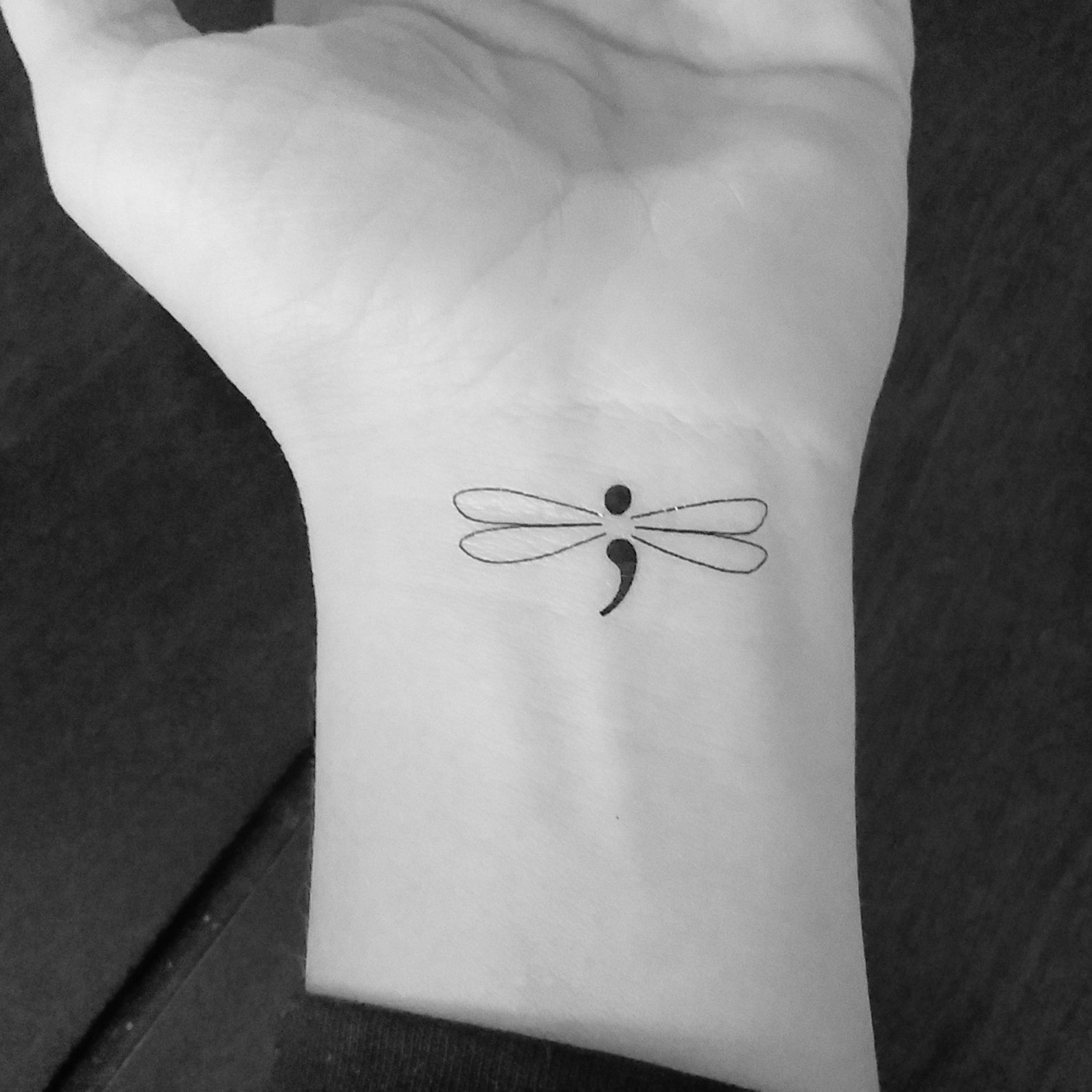 Semicolon Dragonfly Temporary Tattoos
Do you think your friend or family member needs an ego boost? Give them a temporary tattoo that helps to remind them of their inner best self.
Basic Daily Help Gifts for Depression
When it gets right down to it, some people with depression just need help with basic daily stuff like eating, cleaning, sleeping, and how to plan their time.
Some good ideas for this include an Amazon home cleaning service or meal delivery gift cards.
Outfit Formulas Gift Certificate
If the person on your list struggles with getting dressed every day, give them a gift certificate to Outfit Formulas by Get Your Pretty On! I personally have been doing the Style Challenges with this group since 2019 and it's totally changed my life.
Outfit Formulas Gift Certificate
That's it for suggestions! What will you be buying for gifts for people with depression?
38+ Gifts for People with Depression
Here are some of my favorite social anxiety tools
Thanks for reading! I hope you found some helpful tips. Since this site is about social anxiety, I wanted to also share some tools I use that I hope you'll find helpful. Some of these are affiliate links, so if you decide to try them, I'll earn a commission. However, I only recommend things I have used myself and would recommend to a friend or family member.
Online Therapy: For online therapy, I have personally used and like the service offered by Betterhelp. It's easy to get started from the comfort of your home. You'll even get a discount on your first month of therapy when you use my link.
Doctor Visits: For doctor visits, Web Doctors offers convenient online appointments.
Audible Subscription: I recommend a lot of self-help books on this site, but I actually prefer an audiobook subscription over print books! My favorite subscription service is Audible because it has all the best-sellers and they stay in your digital library forever (even if you end your subscription). You can sign up for a free trial and listen to your first two books for free.
Social Anxiety Masterclass: The Social Anxiety Masterclass is my signature course where I walk you through everything I know about how to manage social anxiety. If you're not ready to enroll in the course, be sure to subscribe to my email newsletter to hear about special deals!